May Maa Durga empower you & your family with her nine swaroopas of name, fame, health, wealth, happiness, humanity, education, bhakti and Shakti… HAPPY NAVRATRAS!
It's about fast, and judicious feast as well. Navratras mean nine days of fast, prayers and celebrations. Don't pile up the unnecessary calories, which can be avoided, and still enjoy the diet.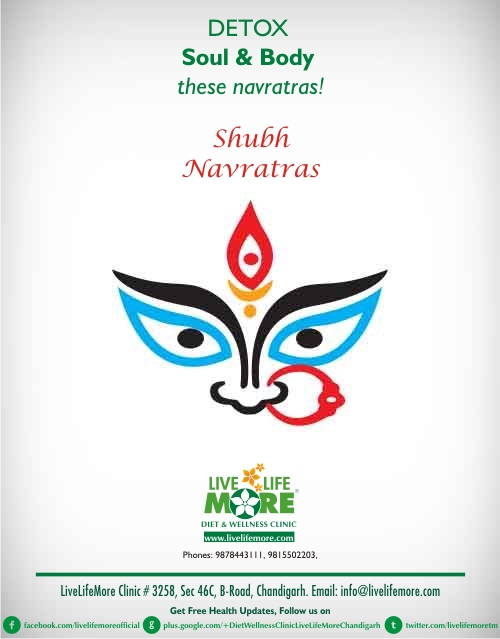 9 Tips for a leaner 'YOU' these Navratras..
Eat after every 3 hours. Small meals at regular intervals keeps metabolism intact.
Take more of yogurt, smoothies and fruits etc. which fill you up and maintain required fluid level in your body.
Make boiled potato chat with green chutney, curd and boiled potato. Add some rock salt and black pepper.
Replace kheer with mixed fruit curd.
Instead of making kuttu pakodas and puri make kuttu ki roti, add radish and its leaves to make it soft.
Try to make samak chawal idli and dosa.
Replace whole/full fat milk with skimmed milk.
Drink coconut water, lemonade whenever you feel like. If you are herbal tea fan then go ahead with that as well.
Instead of making potatoes bhaji all the time, make pumpkin and ghiya/ lauki  (bottle guard) in different form like soups to fill you up with a few calories.
We hope these tips will reduce your calories intake while fasting but keep up your metabolism at the same time.