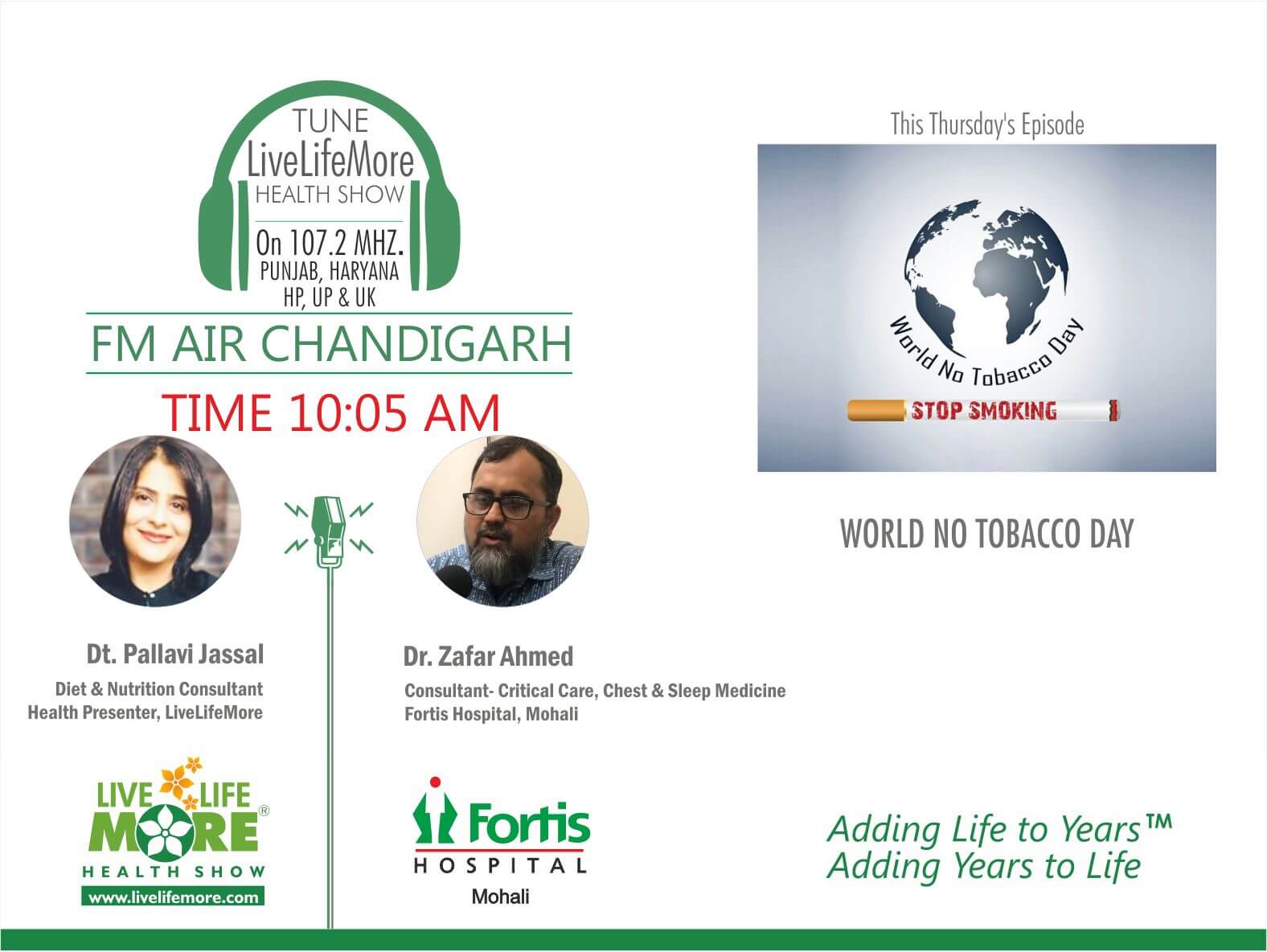 In this health talk, Dietitian Pallavi Jassal talks with Dr. Zafar Ahmed, Consultant, Critical Care, Chest & Sleep Medicine, Fortis Hospital, Mohali on World No Tobacco Day 2019.
World No Tobacco Day is observed every year, on May 31 by the World Health Organisation. This day is observed to raise the awareness against the deadly and harmful effects of use of tobacco and the second-hand exposure to smoke and to stop the use of tobacco in any form.
The theme of World No Tobacco Day in 2019 is on "Don't let tobacco take your breath away" which focusses on ill effects of tobacco on lung health.
According to a study published in Times of India on World No Tobacco Day, 2018, India is the home of 12% of the world's smokers & we lose 10 lakh lives to tobacco every year.
This episode of LiveLifeMore Health Show highlights the multiple ways tobacco harms on people's lung health that includes a higher risk of cancer to chronic respiratory diseases.
Lung cancer. Smoking tobacco is considered the primary risk factor for lung cancer, causing over two-thirds of lung cancer deaths all over the globe. Exposure to second-hand smoke at work-place or at home also increases the risk of lung cancer. Deciding to quit smoking now can reduce the risk of lung cancer and the risk falls to about half within 10 years of quitting smoking.
Chronic respiratory disease. Tobacco smoking is the leading risk factor of chronic obstructive pulmonary disease (COPD) also called chronic obstructive airways disease (COAD), a condition in which there is a build-up of pus-filled mucus in the lungs that results in a painful cough and breathing difficulties. If an individual starts smoking at a young age, there is a higher risk of developing COPD, as the chemicals in tobacco smoke significantly damage the inner lining of the lungs. Tobacco also exacerbates asthma, which restricts active life and contributes to increased absenteeism at work due to disability. Early intervention in the form of smoking cessation is the most effective way of slowing the progression of COPD and reducing the incidence of asthma and its symptoms.
Take care, stay informed, stay blessed & LiveLifeMore.
Yours in health awareness,
Dietitian Pallavi Jassal & Dr. Sandeep Jassal,
Team LiveLifeMore